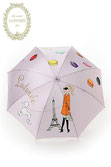 "Romantic Laduree umbrella bringing happiness"
Laduree symbolic design such as Parisienne, Macaron, etc on the umbrella seems actually bringing happiness on rainy days as declared in a slogan. 
New lineups of the Laduree umbrella have several color variations of every design, from which you can choose a combination of your favorite design and color. There are also foldable umbrellas that you can bring it in your bag. 
Please click "Read More" to view new Laduree umbrella. It is outstanding. 
Please click below picture to view more colors and details.