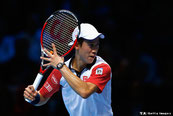 Dear fans of Kei Nishikori
We announced that Kei Nishikori 2014 ATP Tour Finals model would be online sales around mid-March 2015 though, we received a notice from UNIQLO today that delays the schedule of distribution. 
Rescheduled is beg-April 2015. Would you please Like our Facebook to receive our announcement of the sales release timely. 
There are two models of polo shirts, 01 Off White and 68 Blue. Size S - XL will be available. 
We have limited availability.