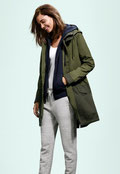 We started online sales of UNIQLO Women Military Coat that was released recently. In the last winter season in 2014, the military coat was gone out soon. 
This coat is stylish silhouette and suitable at the end of winter or early spring. I personally got olive military coat and looking forward to wearing it on this coming weekend, because it is expected sunny and warm. 
A feature of the coat besides the stylish silhouette is comfortable and easy to move. For me it is a nice coat especially when I go out with my little girl who runs around.